Everything You Need To Add To Your Fall Wishlist
Fall is my absolute favorite time of year! The cozy décor, pumpkin spice lattes, and the crisp weather!!! It's the best. I have already decorated my house (September 1st is officially fall in my mind lol) so I thought it would be fun to share some of my favorite fall must-haves and awesome things I've added to my fall wishlist.
I know I'm not the only fall girlie here and you may be looking for something new to add to your fall wishlist!
Something about me: I like to bake but I rarely do it mostly because the clean-up is the worst. However, this fall I've set some seasonal goals and two of them include cooking/baking.
I plan on making pumpkin bread (which I've never done before) and homemade soup. I'd love to try making the kale soup from Olive Garden but I'll probably start with chicken noodle or something!
So with that said, I've been looking around for some cute fall kitchen stuff and let me tell you – there's a lot of adorable stuff!
Let's jump into all the fall must-haves so you can get shopping asap 😊
Disclaimer: Links included in this post might be affiliate links. If you purchase a product or service with the links that I provide I may receive a small commission. There is no additional charge to you! Thank you for supporting my blog!
The fall must-haves
I know a lot of us are Amazon shoppers (I love me some Amazon) but I did try to find some stuff that isn't from there. Etsy is another place I love to shop so hoping you find a new fav Etsy shop here in the items I'm sharing!
From kitchen to home décor to beauty must haves – there is something for everyone in this fall list!
I mentioned earlier, I want to do some fall baking/ cooking so I want my kitchen to be full of those cute and cozy fall vibes. But I also NEED my whole house to be straight out of a HGTV show during cozy season lol.
Without further ado, here are some items you just *might* need. Get your fall wishlist ready to go!
Pumpkin-shaped Bowls
If you like to host fall parties or just enjoy some chips and dip on your own while watching a movie like Hocus Pocus then this is for you!
I love the little pumpkins and the broomstick! It's ADORABLE. Plus it's from Etsy so you get to support a small business.
Check out the pumpkin bowls!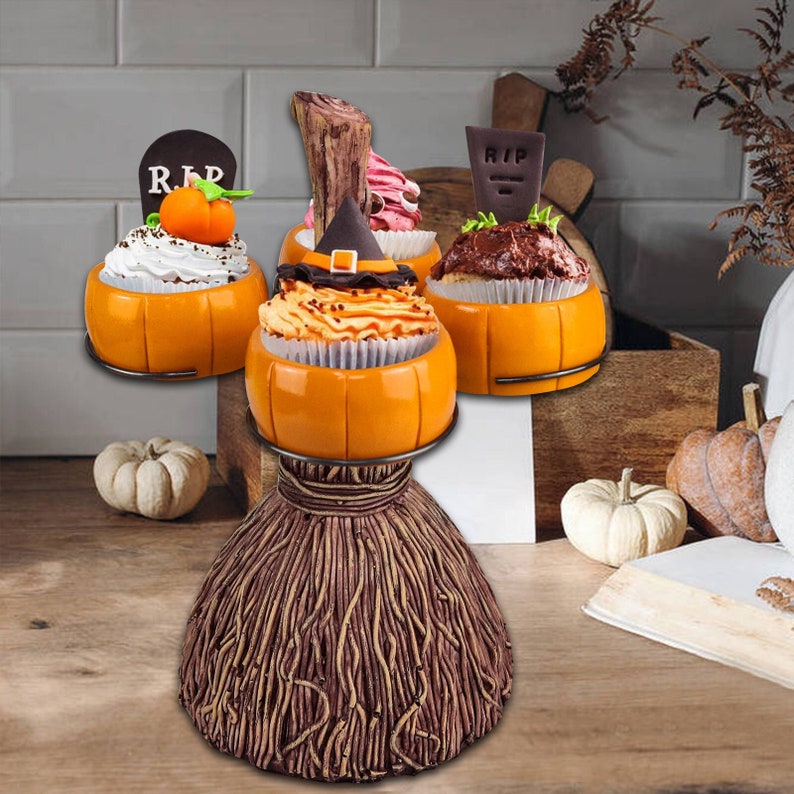 Engraved Cutting Board
Another Etsy find that would look good in anyone's kitchen! This is giving more harvest fall vibes but honestly, since it's a cutting board it could be used all year. I think I would use it more as a décor piece to be honest, but you can definitely use it!!
Check out the engraved cutting board!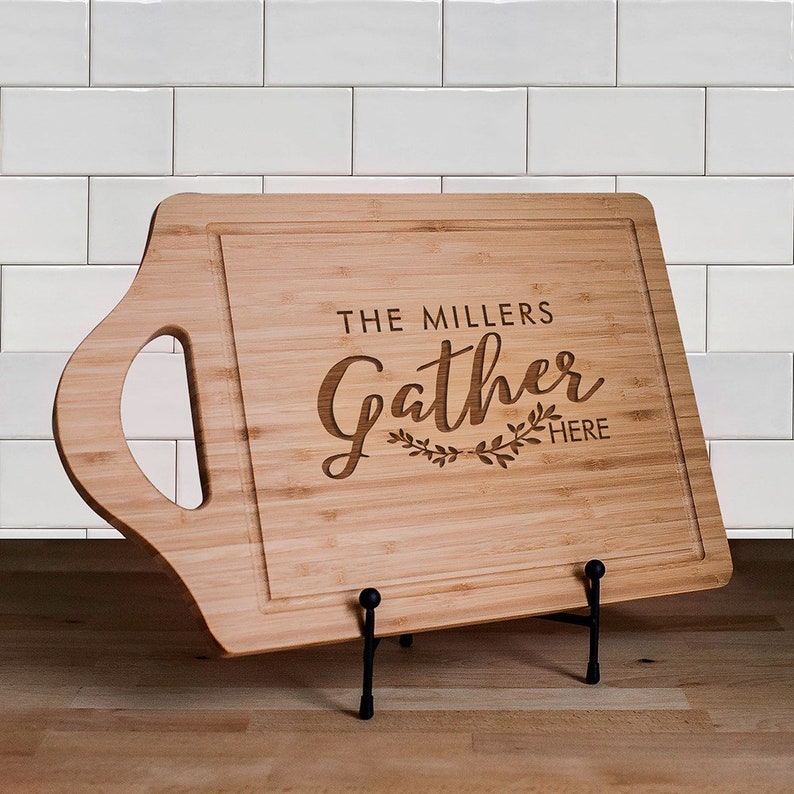 Pumpkin Plate and Bowl
If you can't already tell, I am a pumpkin girly. This bowl/plate combo is so cute and would look great on your counter with some fruit or could be a cute serving duo!
This shop also has some really cute mugs!!
Check out the pumpkin plate and bowl.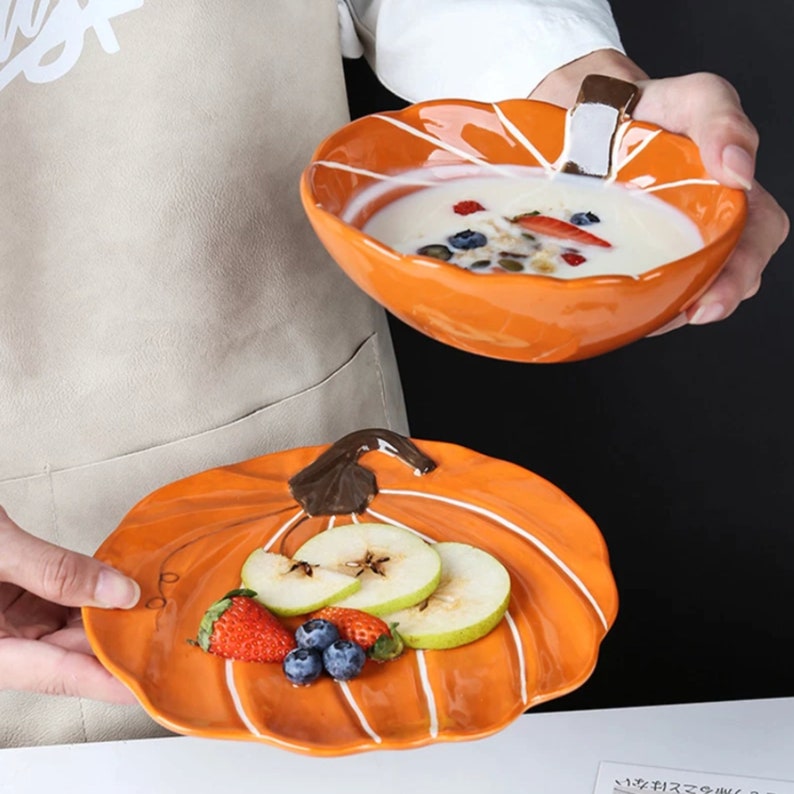 Ceramic Pumpkin Cocotte
Catch me making my yummy fall soups in this adorable pumpkin pot!
I've seen people have these on their stoves in YouTube videos (love me some vlogs) and I have wanted one for a couple of years now. I think this is the year I get it since I'm in my fall girl era and soup era.
Check out the pumpkin cocotte!
Scary Squad Cookie Platter
The perfect serving plate for cookies when you have friends over for a scary movie marathon!
I like cute little ghosts just as much as pumpkins but they don't scream fall to me (more Halloween). However, this platter is too cute to pass up. Keep it on your kitchen table all fall so all your guests can also see how amazing it is!
Check out the cookie platter!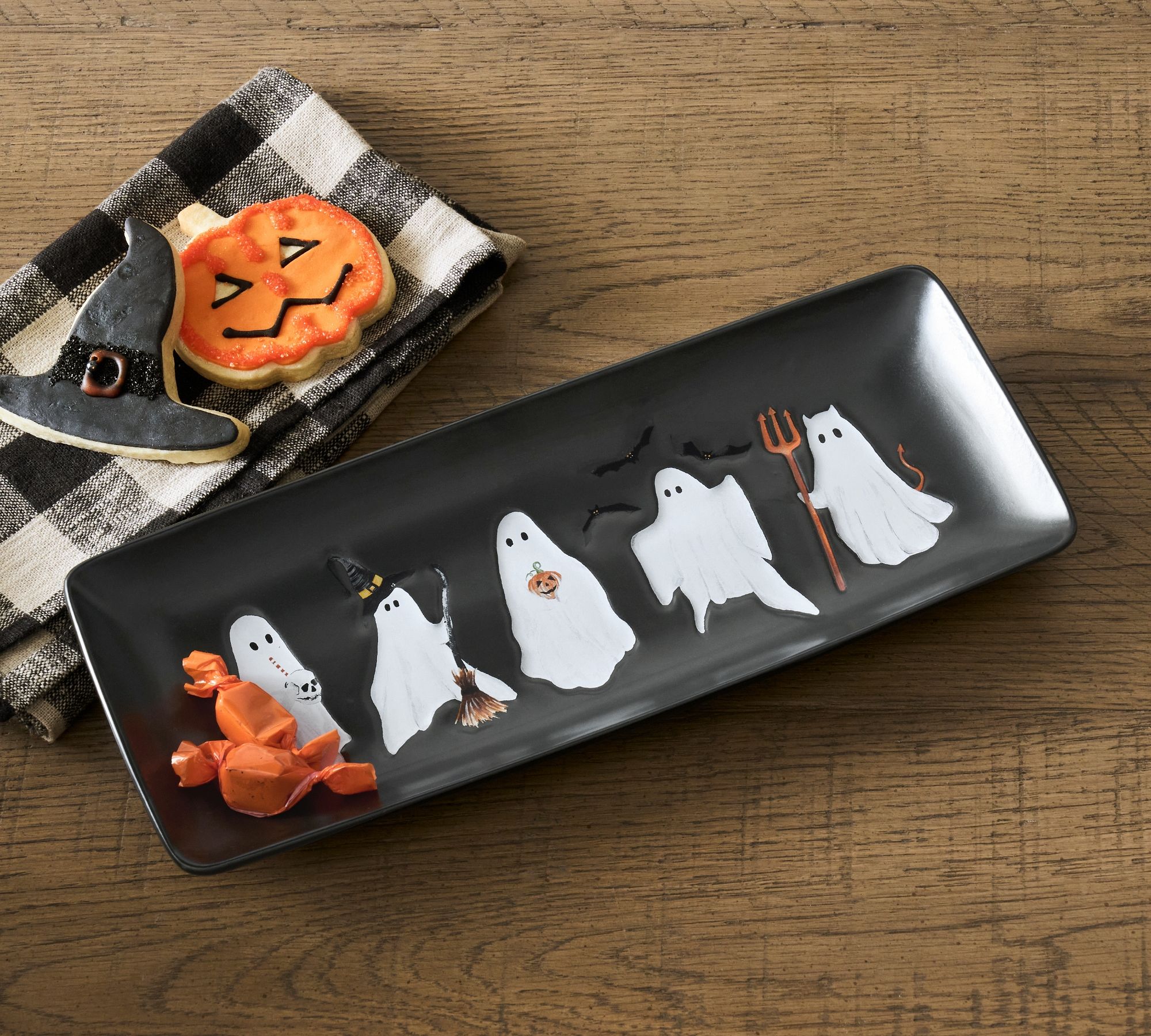 Ghost Salt and Pepper Shakers
I personally use salt and pepper shakers as decor (I don't even fill them lol). I have my cute little Christmas ones but I need fall/Halloween ones.
These are also great if you have a tiered tray in your kitchen (or anywhere). If you watch Angie Bellemare on YouTube you'd know she's the queen of a tiered tray and she always uses salt and pepper shakers!
Check out the salt and pepper shakers!
Coffin Paper Towel Holder
A really easy and subtle decoration if you like to keep things a little less "in your face."
I guarantee people will ask where you got that and then they'll be adding it to their cart immediately.
Check out the paper towel holder!
Fall Hand Pie Molds
I'm sorry but there is nothing cuter than these?! For one, the idea of making hand pies is amazing. Second, can you believe the compliments you'd get for these cute little pies?
They are shaped like little pumpkins, acorns, and apples! If this doesn't scream fall to you then I'm not sure what does.
Check out the pie molds!
Round Wooden Bead Tray
This tray will add a touch of rustic fall vibes to your space. It's not necessarily just for fall but it does give the warm, farmhouse, harvest feel.
I love having a tray in the living room to put some decorations but also for some odds and ends. It's a good spot for the TV remotes, pens, or anything else you may have lying around that you use all the time.
Check out the wooden tray!
Pumpkin Blanket
I seriously can't get enough throw blankets. I think I would die under a pile of throw blankets if my fiance didn't put a limit to the number we can have in the house LOL.
However, just because I can't have any more throw blankets doesn't mean YOU can't. Please let me live through you. Buy this and then tell me how soft it is and how happy you are. Please and thanks 🙂
Another Etsy find too!
Check out the pumpkin blanket!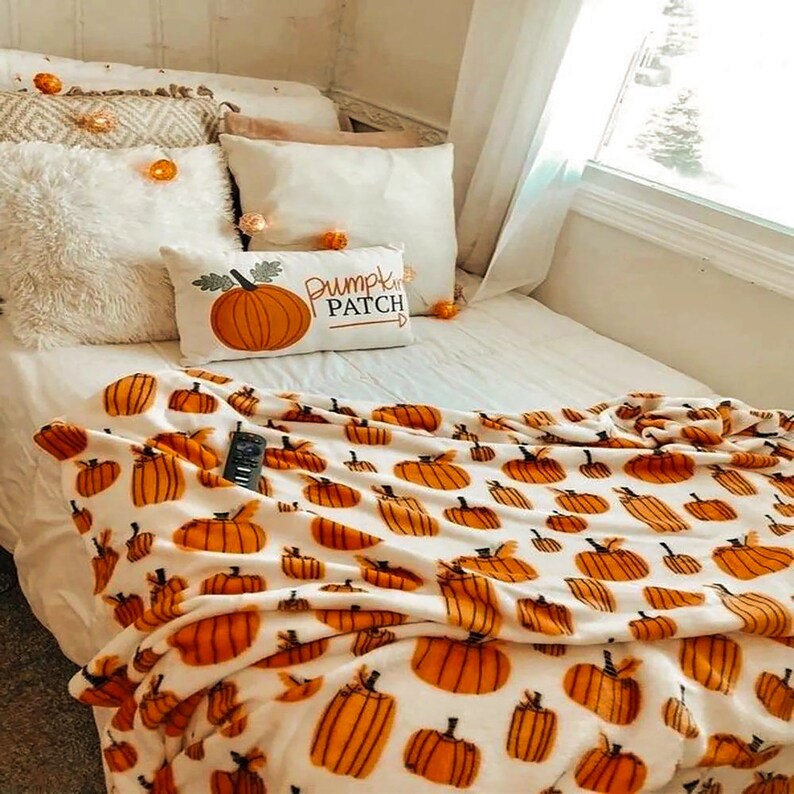 Vintage Tealight Holders
Candles always add a cozy, warm vibe to a space. Sometimes you want them all to match though and be more aesthetic. These tealight holders are so beautiful and could be used all year (but would look especially good during the fall).
You don't even need to use real candles. I love the fake ones that just flicker. You wouldn't even notice a difference with these.
Check out the tealight holders!
Wooden Welcome Sign
The perfect welcome sign to put out in front of your house (or apartment door if you're like me).
I have always liked the idea of decorating a porch and I hope that one day I have a porch to decorate. For now, I will create my little Pinterest boards with décor that I hope to one day use. If you have the space for it, this welcome sign is super cute.
Also, the cool part is that the wreath is interchangeable! It comes with 3 other wreaths so you can use it all year!
Check out the welcome sign!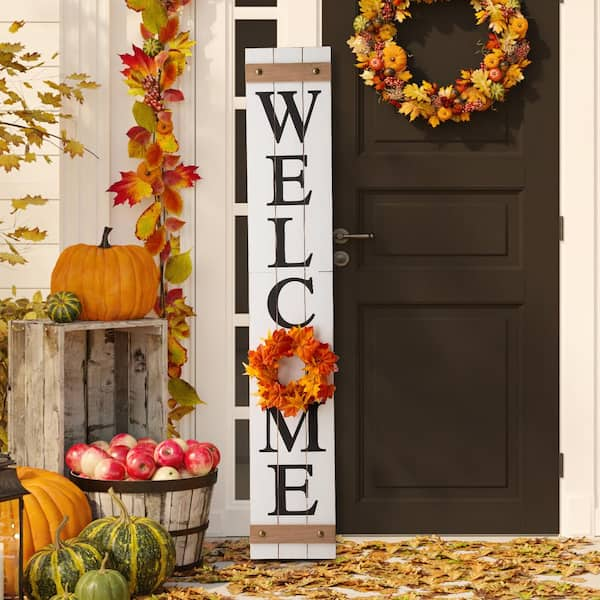 Flowerbar
I thought this was a really unique décor piece. There are so many fall wall art pieces that you see (mostly art prints) but this is like a shelf with dried flowers in it which is cool.
It comes in different lengths and reading the reviews, seems the seller is really easy to deal with and people loved their "Flowerbars."
Check out the Flowerbar!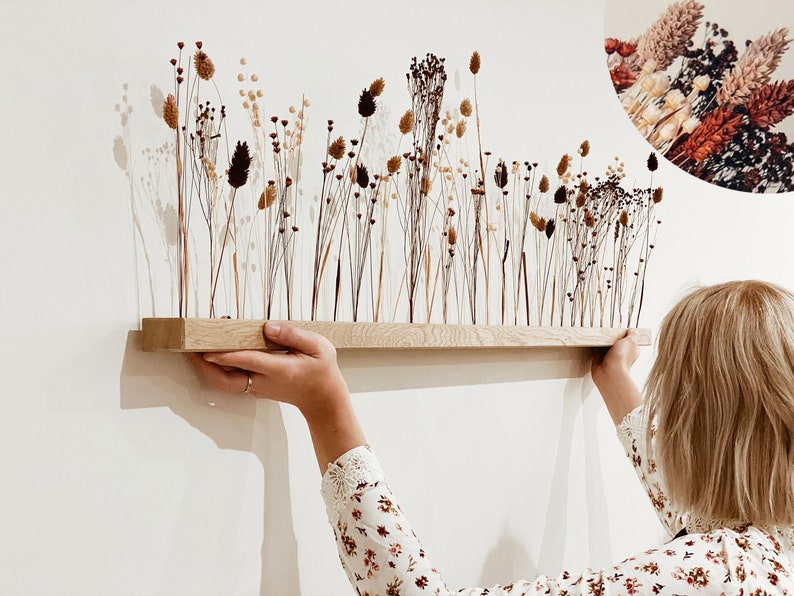 Pumpkin Welcome Mat
Door mats are such a good way to decorate a space! I like colorful ones usually because they are more fun and can really go with the theme (fall, Christmas, spring, etc.).
I love the bright pumpkins on this welcome mat. I can picture it now at my front door or even on my patio!
Check out the welcome mat!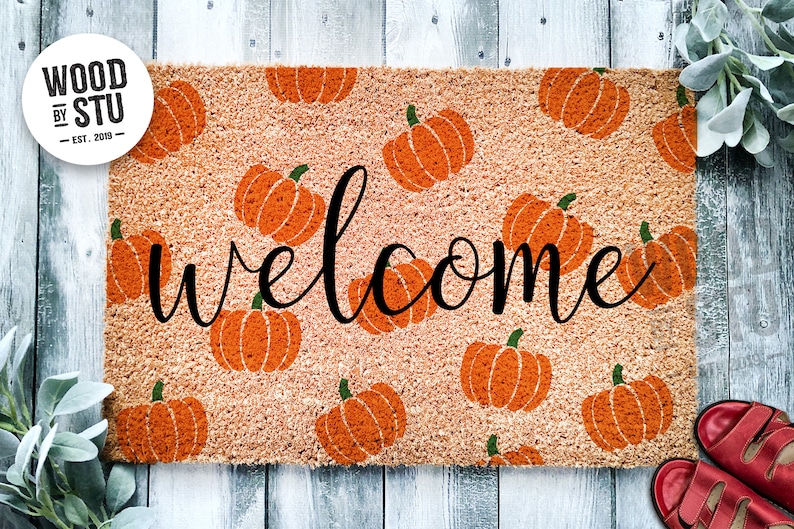 It's Fall Yall Candle
Another Etsy find and this one is extra special! If you are a candle girly then you need to try these ones.
I have been on Bookstagram for a few years now and someone who I have followed for a while started an Etsy shop that totally took off (this is her).
She makes awesome candles and also some dried floral arrangements that are very beautiful.
Check her shop out and buy yourself something nice.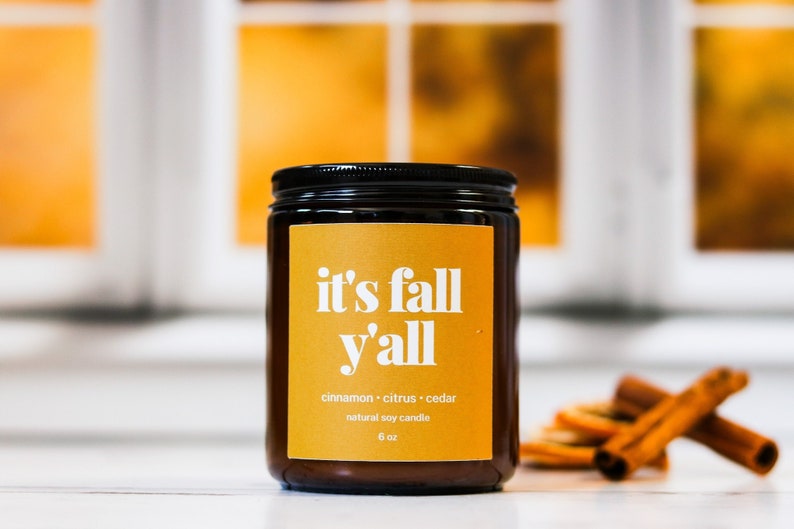 Mushroom Wall Art
Mushrooms give me fall vibes. I'm not a mushroom person myself but I think this wall art is really cute. It's on my fall wishlist this year as I plan on hanging it where I currently have a macramé thing hanging. I think it will look cute!
Check out the mushroom banner!
Vanilla Pumpkin Body Butter
The Body Shop is the OG when it comes to body butter. I used to beg my parents to take me there to get new body butter and when they would say no I would ask my grandma who would then take me to the Body Shop lol.
Fall scents are my favorite and this vanilla pumpkin scent is just *perfect*
Check out the body butter!
Replica Autumn Vibes Perfume
People seem to really love the Replica autumn perfume! Anything that is fall-scented is a win in my book. Plus, the travel-size one is perfect to take with you on the go.
The packaging/bottle is also really simple but pretty. Gives off that vintage look that I think of when it comes to the fall season.
Check out the autumn perfume!
Just One Bite Lip Scrub
The poison apple from Snow White is kind of spooky and makes me think of Halloween (especially this packaging – so cute btw).
You definitely need a new lip scrub and the fact it's shaped like an apple and is from Disney is just a plus.
Check out the Disney lip scrub!
Pumpkin Spice Lip Balm
When the weather changes I find my lips getting much more dry which is literally the worst. I love a good flavoured lip balm and even better if it's organic.
This Etsy seller is making a bunch of awesome organic lip balms and this one is pumpkin spice! Spice up my life!
Check out the pumpkin spice lip balm!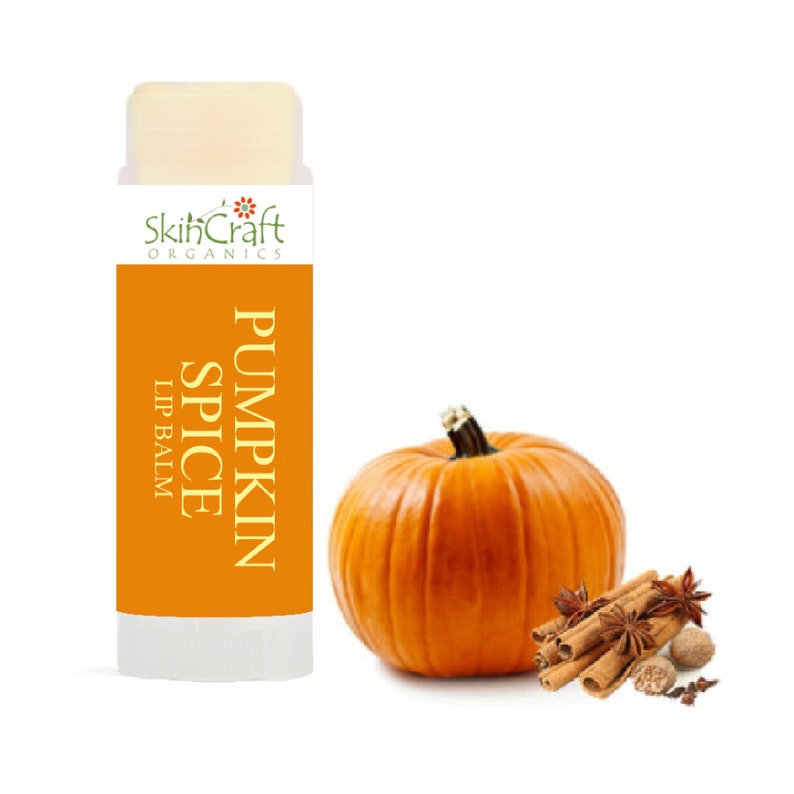 Fall Press-on Nails
Now, I'm not normally a press-on nail girly. However, my friend is and she has had great luck with them.
I saw a bunch of press-on nails on Etsy and these caught my eye. They are so pretty! I love how they are definitely giving fall but aren't super bold. These would be perfect for someone who wants to do her nails but skip the salon while still getting something cute and special.
Check out the press-on nails!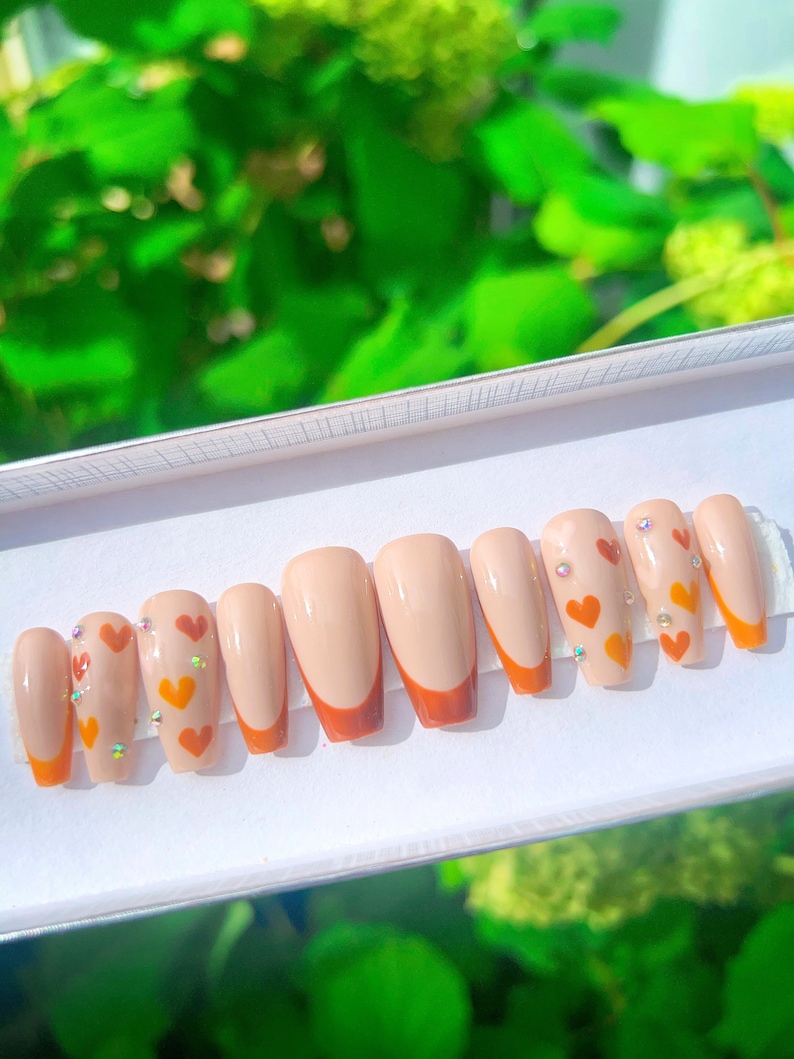 Corpse Bride x Revolution Palette
Who likes the movie Corpse Bride? If you raised your hand, you need this eyeshadow palette.
It's shaped like a butterfly and is kind of spooky looking but when you open it up it's full of beautiful colors and lots of sparkle!
I have wanted to get a new eyeshadow palette (I currently own one and it's Loreal– I'm no makeup pro so don't come at me lol). Maybe this one or another one will be my new fav! Revolution has a few different Halloween palettes to choose from.
Check out the eyeshadow palette!
Halloweentown Sweater
I cannot have enough sweaters for the fall season. Give me literally every single sweater with some fall/ Halloween print on it!
This one is a FAVORITE of mine because Halloweentown is my all-time fav Halloween movie. So nostalgic and cute. Although we don't talk about the fourth movie.
Check out the Halloweentown sweater!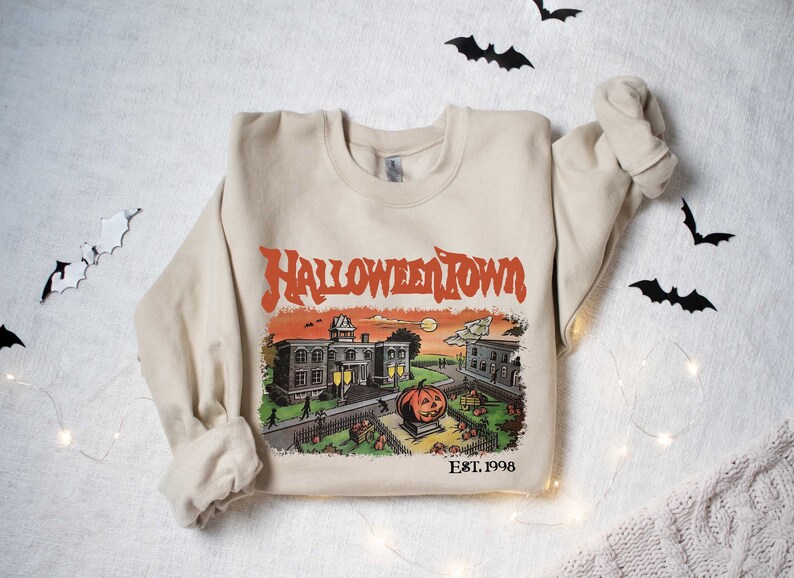 Pumpkin Slippers
Slippers and fall go hand in hand. You need those cozy slippers when the temperature drops.
Now picture this: you are sitting in front of the fireplace with a cozy blanket, a hot chocolate, and a spooky book. On your feet, you have these adorable pumpkin slippers so your little feet stay nice and warm.
Sounds perfect right? Check out the slippers!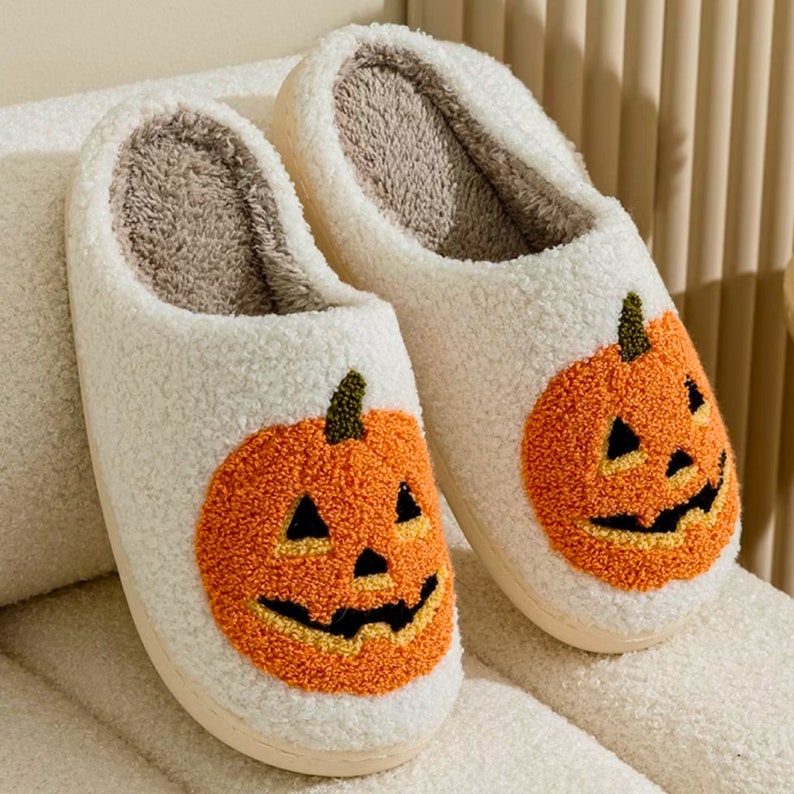 Ghost and Cat Sweater
This sweater is for the person who likes fall and Halloween but doesn't want to scream it from the rooftops.
You also like cats and little ghosts (who doesn't though).
I really love this print. It's so minimal but also cute and spooky.
Check out the ghost sweater!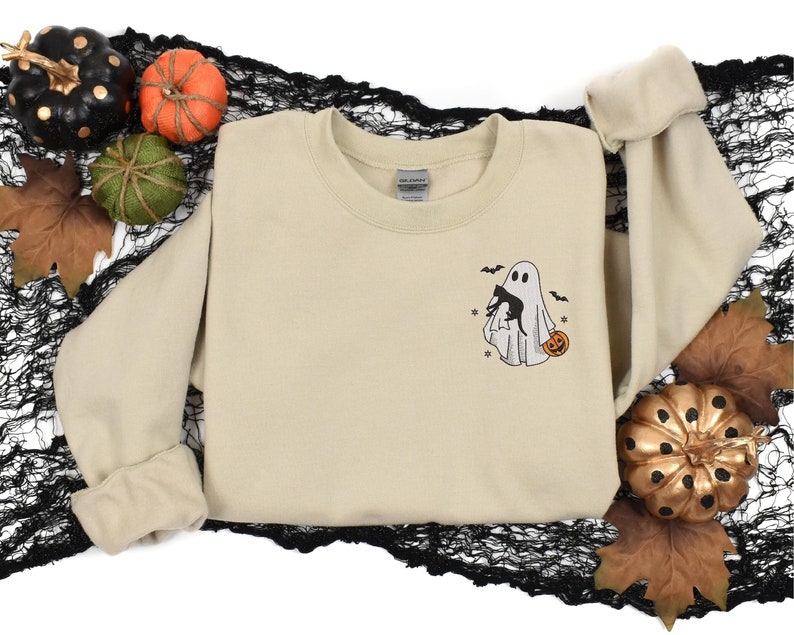 Casual A-Line Fall Dress
Everyone needs *that* dress for fall. You know the one. This dress is long-sleeved, a beautiful burnt orange color, and is a soft velvety material.
It's the dress you need for fall events or would be really cute as a pumpkin patch outfit for some Instagram pics.
Check out the perfect fall dress!
Oversized Soft Brushed Shacket
I have this jacket in a different color and it's easily my favourite jacket ever. It's lightweight but warm and it's thin enough to layer.
I really like this print and will be getting another one this year but they sell out fast so get one asap!
Check out the shacket!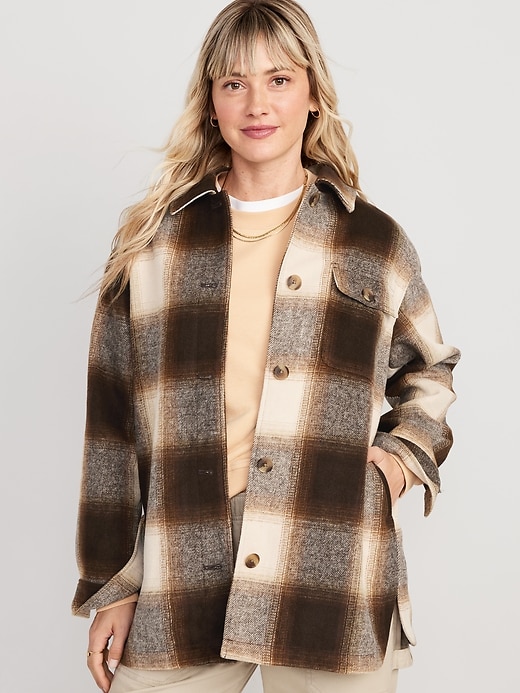 Skeleton Sweater
Dancing skeletons are just my thing. I have a sweater with dancing Disney skeletons but I can't find it online so this is the next best thing!
Would be so cute to wear around the house, to a fall party, or even to work so your co-workers can see! Plus it's another Etsy find so go support a small biz.
Check out the skeleton sweater!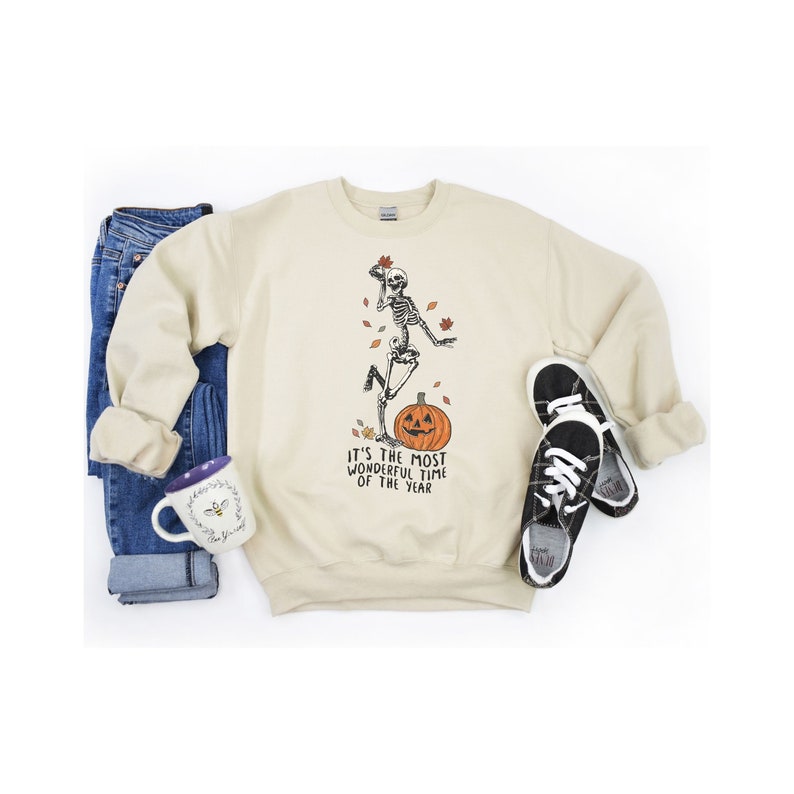 Pumpkin Pajama Set
These pajamas are TOO CUTE. I am obsessed and want them on my body immediately.
I love a matching pj set and wow, these just look amazing.
Imagine waking up on a crisp fall morning, enjoying your morning coffee while looking out the window as it rains slightly. Simply amazing.
Check out the pumpkin pj set!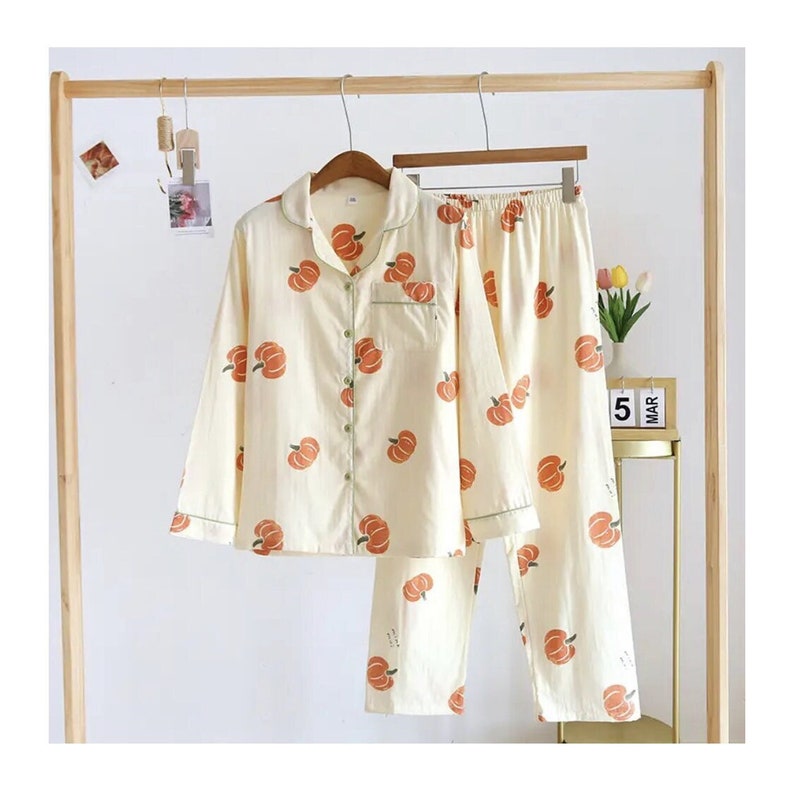 Shine Align Leggings
I have been trying to get these leggings for so long but they are always sold out!! They seem to be in stock now though so adding to cart!
I saw my friend wearing these one day while we went on a fall stroll and I thought they were leather pants which confused me as we were on a walk lol. Anyways, they look like leather pants but they are actually Lululemons!
They have them in the different length options but for my fellow short people, they don't seem to have them in 23 inseam which is a CRIME. Anyways, I will be getting them in the 25 inseam and getting them *hemmed*
Check out the Align leggings!
Pumpkin Spice Composition Notebook
I love a cute notebook. Like most girls, I have quite the selection of notebooks and I will not stop buying more. Can't stop won't stop!
Looking for a fall-themed notebook to add to your collection? Grab this one!
Check out the pumpkin notebook!
Fall Weekly Planner Pad
Etsy always has the best selection for weekly planning pads. I really like this one because a) it's cute and fall-themed and b) it's actually functional.
It has space for weekly to-do's and plans.
Check out the weekly planner!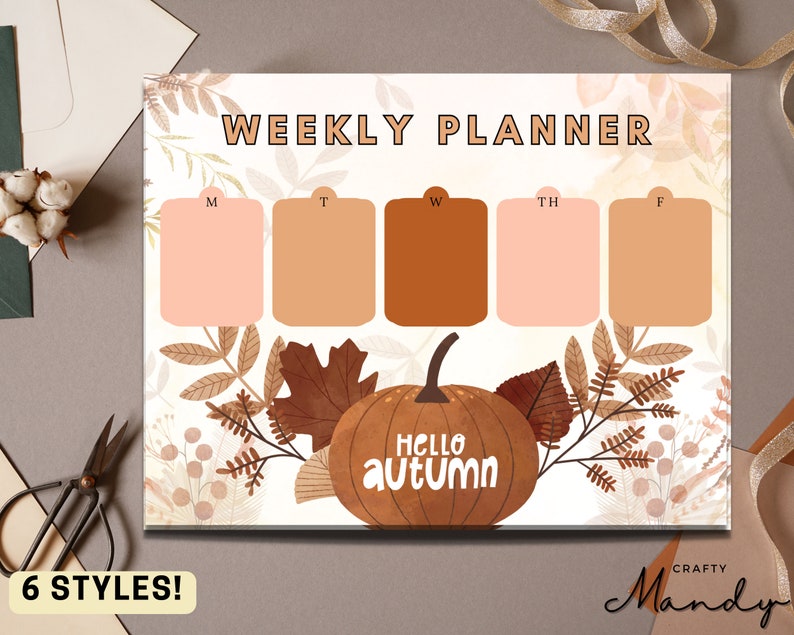 Homebody Sticker Sheet
Im also a sucker for stickers and can't get enough. I like to refer to myself as a homebody which is totally trendy during the fall so you need these stickers!
If you like to bullet journal or even just add them to your planner, these are perfect for fall.
Check out the homebody sticker sheet!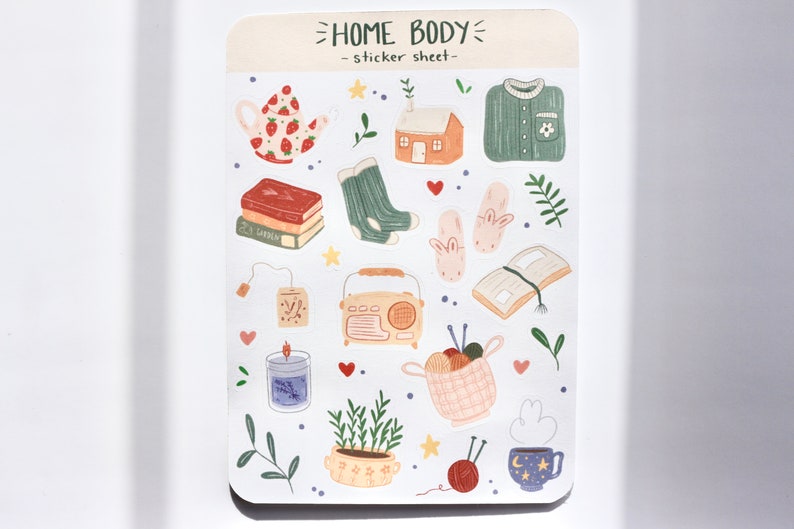 Fall Aesthetic Sticker Sheet
Shocker, another sticker sheet! These ones are cozier with apples, warm drinks, and books!
It's the sticker sheet you need if you like cozy fall vibes with a touch of dark academia.
Check out the fall sticker sheet!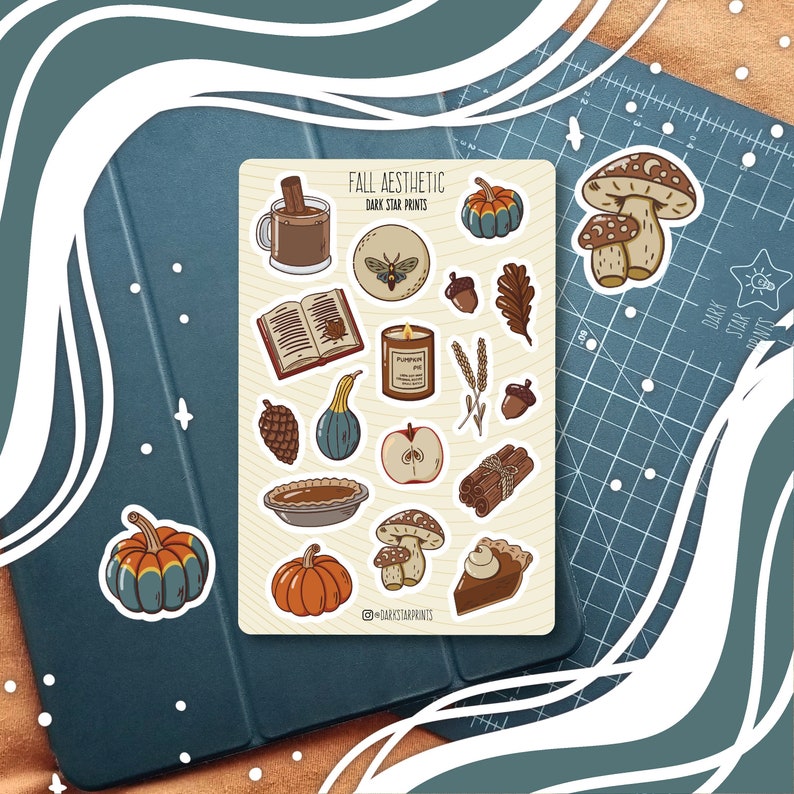 Here For The Boos Sticky Notes
If you are anything like me then you love a good list. These sticky notes are the best and are also pretty funny.
Leaving a note for yourself or your spouse just became more fun this fall season!
Check out the sticky notes!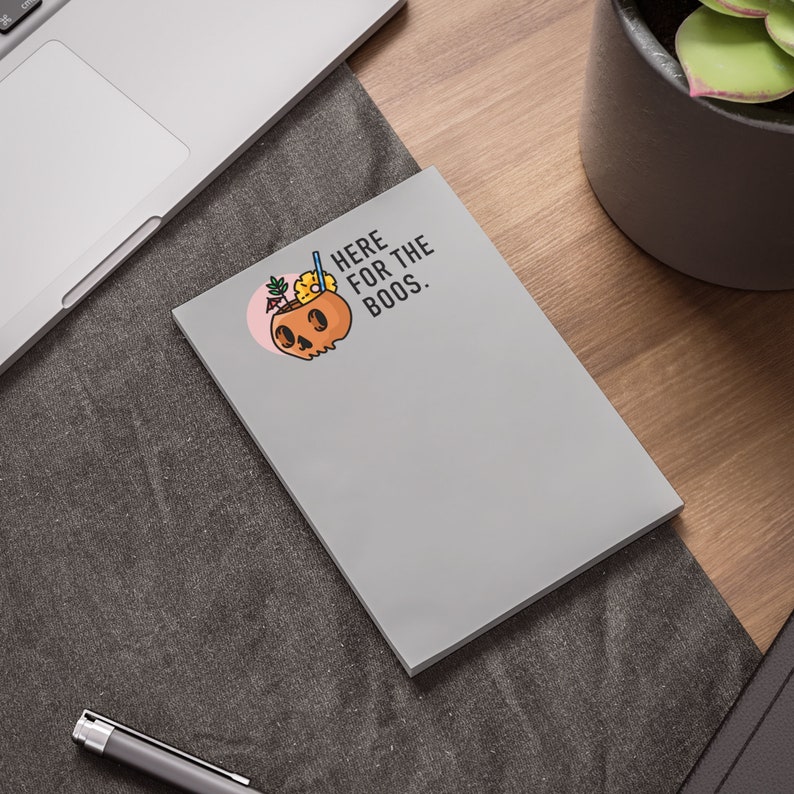 Witchy Cats Postcard
Do you like sending letters to family or friends? Maybe you have a pen pal?
You need these Halloween postcards! I said "these are so cute" so loudly when I saw them lol. Cat lovers will especially like these and probably squeal just like I did.
Check out the cat postcards!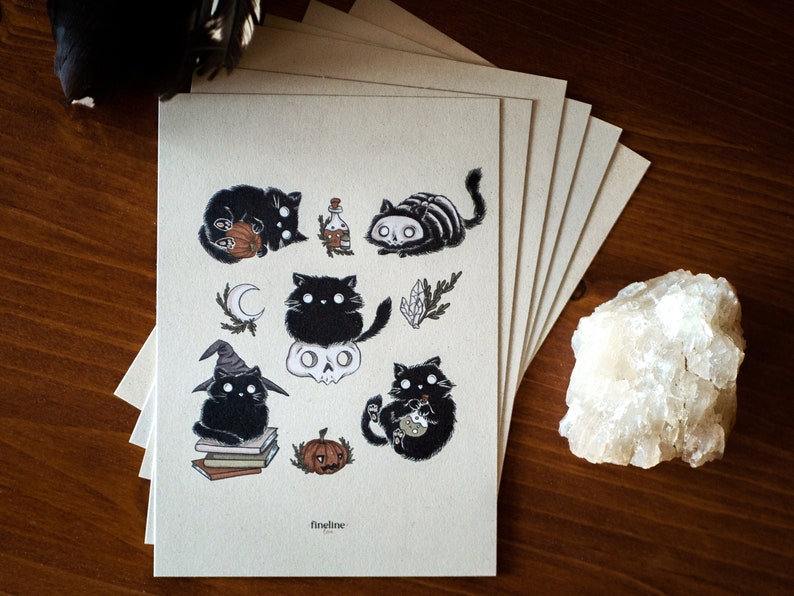 Ghost Pillow
I will start this off by saying Gus the Ghost is a bit expensive but he is so cute!
Gus is a bestseller from Pottery Barn and this is the new and improved Gus with a cute little pumpkin. It's a must-have if you have some extra money to burn lol.
Check out Gus the Ghost!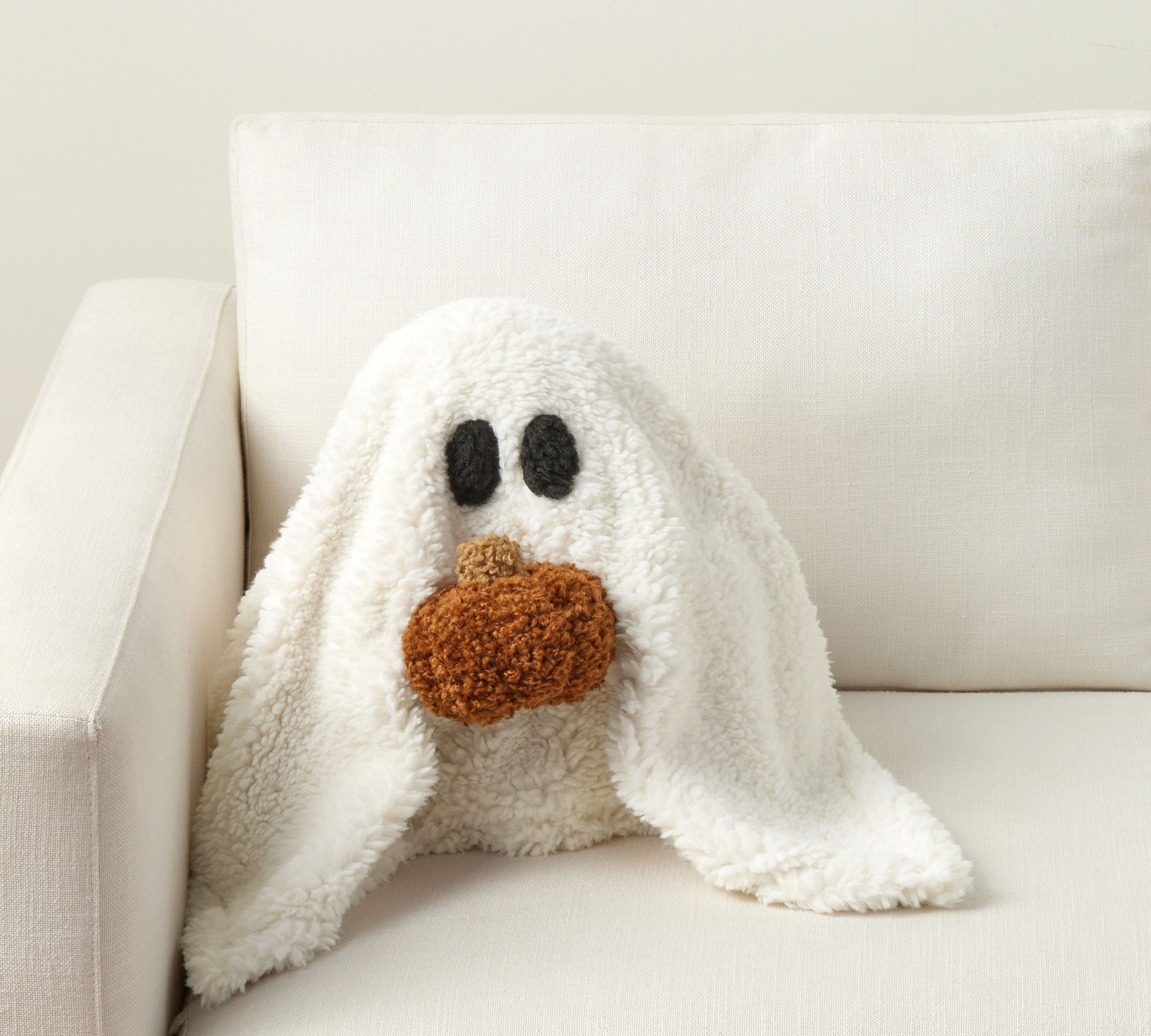 Coffin Letter Board
Who doesn't like a letter board sign? This one is the perfect spooky addition to your home. It's shaped like a coffin and sits up on its own. You can put a spooky saying like "it's all a bunch of hocus pocus" or "I'll stop wearing black when they make a darker color."
Check out the letter board!
Glow-in-the-dark Lawn Cats
If you have a yard to decorate then you need those glow-in-the-dark cats. They are so cute but also a little spooky. The kids would love them when they are out trick-or-treating!
If you don't have a yard they could still be cute in your house or on your patio!
Check out the lawn cats!
Ghost Candles
Back on the topic of candles – I love candles that are shaped like things. These ghost candles are so cute and would be great decorations on a bookshelf or on a tray!
You could definitely light these or you could just keep them for their looks!
Check out the ghost candles!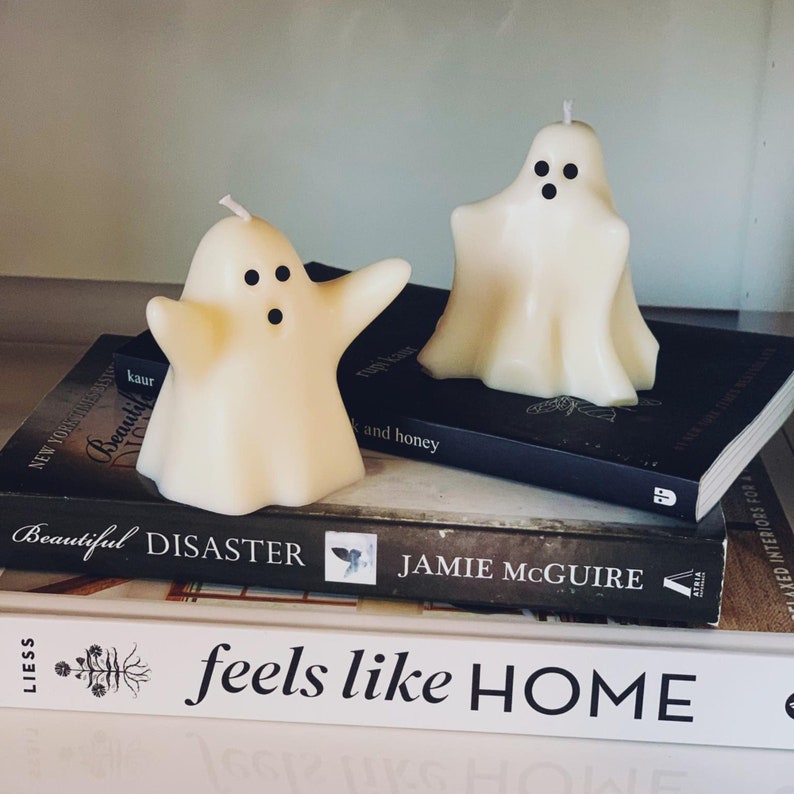 Halloween Wreath
Wreaths are not just for Christmas! They have become popular for all the seasons so why not get one to hang on your door this Halloween?
Home Depot has a lot of options surprisingly but this was my favorite. The perfect combo of spooky and cute. Definitely more Halloween than fall but you could always get 2 and have one for fall and one for Halloween!
Check out the Halloween wreath!
Final thoughts
Are you ready to do some fall shopping now? I know I am!
As soon as it turns September I am decorating for fall. There is something about a warm fireplace and a house full of pumpkins. The warm tones really make the space cozy. It's the best time of year in my opinion!
I hope some of these items sparked your interest and maybe will even be featured in your home this year.
Let me know if you end up getting any of these and PLEASE share some goodies with me in the comments. If you have a must-have fall product I need to know!
Enjoy spooky season and have a PSL for me 🎃